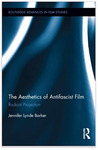 Title
Aesthetics of Antifascist Film: Radical Projection
Description
Through a series of detailed film case histories ranging from The Great Dictator to Hiroshima mon amour to The Lives of Others, The Aesthetics of Antifascist Film: Radical Projection explores the genesis and recurrence of antifascist aesthetics as it manifests in the WWII, Cold War and Post-Wall historical periods.
Emerging during a critical moment in film history―1930s/1940s Hollywood― cinematic antifascism was representative of the international nature of antifascist alliances, with the amalgam of film styles generated in émigré Hollywood during the WWII period reflecting a dialogue between an urgent political commitment to antifascism and an equally intense commitment to aesthetic complexity. Opposed to a fascist aesthetics based on homogeneity, purity and spectacle, these antifascist films project a radical beauty of distortion, heterogeneity, fragmentation and loss. By juxtaposing documentation and the modernist techniques of surrealism and expressionism, the filmmakers were able to manifest a non-totalizing work of art that still had political impact.
Drawing on insights from film and cultural studies, aesthetic and ethical philosophy, and socio-political theory, this book argues that the artistic struggles with political commitment and modernist strategies of representation during the 1930s and 40s resulted in a distinctive, radical aesthetic form that represents an alternate strand of post-modernism.
Keywords
Fascism, motion pictures, cold war, World War II, anti-fascism and film, Motion pictures Political aspects, World War, 1939-1945 Motion pictures and the war.
Disciplines
Film and Media Studies | Political History
Recommended Citation
Barker, Jennifer Lynde, "Aesthetics of Antifascist Film: Radical Projection" (2013). Faculty Books. 23.
https://scholarworks.bellarmine.edu/fac_book_gallery/23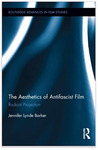 COinS